Instagram is an amazing FREE tool that allows your product to be seen by more people, grow a strong and loyal customer base whilst also driving traffic and revenue to your website.
Instagram has over 800 million users worldwide (more than twitter), your favourite brand and celebrity all have Instagram accounts and are finding ways to interact with Instagram community and earn personally invested customers.
The great thing about Instagram, is instagrammers are shoppers. Iconosquare's 2015 Instagram study shows that 70% of IG users report having already looked up a brand on the platform. Plus, 62% of users follow a brand just because they like it!
If you post the right Instagram images, consumers soak up your marketing message without any hard sales pitches from you; hence, your magic spell for appealing to customers without "selling to them."
Even in my own store 'Korrine Sky' 50% of my shoppers come from Instagram
Shoppers turn to social media for references. So the moral of the story is this: Instagram helps convert passive shoppers into confident customers.
Let's get started.
Set Up Your Optimized Business Instagram Account
If you're going to Instagram for your business, your account must be about your business and not about you.
Keep in mind that marketing is all about the audience and not about you, so selfies and snapshots of your Costa Rica trip with the significant other should stay personal. They're not relevant to your customers and won't get you sales!
First, here's the rundown on how to optimize your professional Instagram presence for greater customer appeal.
Switch your account into a business account
Make sure your account is a business profile and not a personal one. A business profile allows you to view your analytics. In order to have an instagram business account you need to be connected to a facebook page.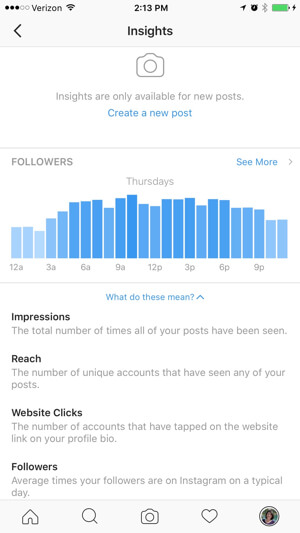 Having an instagram allows you to see your insights and analytics, buy instagram ads and also use tags that link directly to your store, so it's definitely worth doing.
Include a link in your bio to boost traffic to your site
Your bio is the one place where your link is clickable, right under your name and description at the top of your Instagram page. Always include the link to your online shop or a targeted landing page in this spot.
Stay Recognisable with a Consistent Name and Photo
All your Instagramming will be for nothing if the pieces don't easily fit together to show what your brand actually is. The key is to stay recognisable! Choose an Instagram name that's the same as, or related to, your business's name across other social media channels. My instagram is Korrineskyy and my store is korrinesky.com so customers and potential customers can easily find it. 
Keep your profile image consistent as well. All your interactions and engagement on Instagram will be accompanied by the little thumbnail of your profile pic. Make sure it's something recognisable and professional!
Include an Informative and Interesting Bio That Hooks Followers
If someone comes across your account chances they will probably want to know what you do and what your whole page is about. Before people hit Follow on your Instagram, they have to click through to your profile. So make sure the last thing people see before deciding to follow you is a catchy and informative bio. Convince them of the value and content you'll add to their feeds.
Include your business name and a concise description of what you actually do.
Keep it light and interesting, and avoid a salesy tone. Instagram is a unique culture different from your online shop or even your other social media sites. Craft a bio that appeals to the IG community you want to reach and reflects the tone of the images you plan to share.
When in doubt, follow this trusty bio writing formula who you are + what you do + a pop of personality.
2. Create Instagram Posts That Users Are Interested In
You've heard that a picture is worth a thousand words, so let's use this power to its full, customer-hooking advantage.
So let's harness the beloved and effective visual world of Instagram and post some product photos that really make sales! But remember that while Instagram is full of shoppers, it's not necessarily a shopping destination. Here's a quick note on the Instagram culture and how not to annoy your followers:
Avoid Hard Selling to Appeal to Instagram's Social Culture
Buyers report strong influence from social media when considering a purchase. While the number one influencer is their friends' social media shares.  Visuals show your products without you yelling about how great they are. Images allow viewers to make their own decisions without feeling pressure from your business.
So walk the line between wielding your influence and coming off too pushy, which means you'll need to get creative with your product photos.
Promote Your Products with Creative, Professional Photos
The power of product photos has always been essential to online shopping, and Instagram's visual platform takes that power to the next level!  Take effort in your photographs don not just fling anything on instagram and hope it will turn into sales. 
Instagram is a social marketplace that directs traffic that turns into sales. How do you do that? You share photos that are attention-grabbing, unique, and full of personality.
Use Appropriate Hashtags
Hashtags allow the instagram community to search for photos, so make sure you utilise that feature to drive traffic to your instagram page. 
3. Use Shoppable Tags 
Shoppable tags allow your customer to click on the product and be taken directly to the store. I will write a separate post on how to do this, but in the mean time if you can't wait just do a little research.
4. Buy Instagram Ads
With Instagram ads, you can create awareness in a broader audience and promote campaigns that prioritize conversions by tracking sales and views.